Wow. This video is such a wicked display of mountain culture. So many talented people came together to make it what it is.
Dylan Siggers skied backwards and managed to film a 5:41 long music video while about 30 extras–professional and amateur alike–went about a high speed, choreographed routine.
Make sure to watch the outtakes in the credits, because that shit ain't easy.
The song itself is a rowdy take on the folk genre and is an awesome reflection of Fernie, BC, the town Shred Kelly calls home. Their distinctive sound has fuelled many a post-powder day ragers throughout the Western Canadian freeride community.
It's amazing what can happen when the whole community bands their talents together and produces such an amazing piece of work.
Enjoy the vid…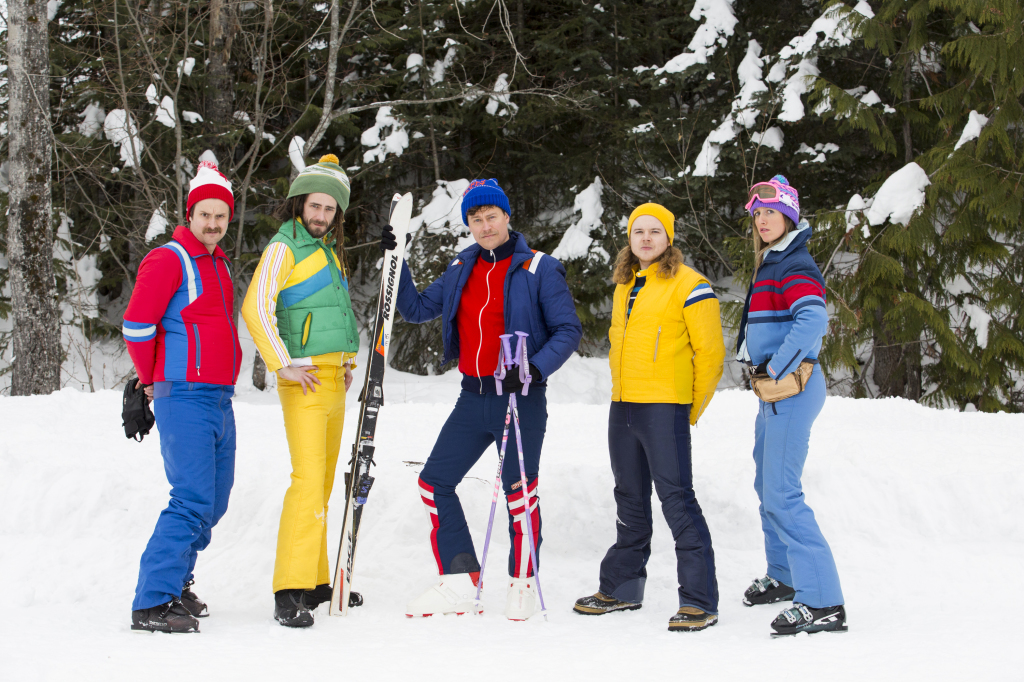 Here's the full Press Release:
   TAKE A RIDE DOWN THE SLOPES WITH SHRED KELLY'S NEW VIDEO80's SKI THEMED VIDEO PREMIERES ON

EXCLAIM.CA

TUNE IN FOR THE BAND'S COAST TO COAST TOUR SKI REPORTS!NEW ALBUM AVAILABLE NOW ON ITUNES!"As this genre continues to garner speed, Shred Kelly's Sing to the Night breaks from the pack and demonstrates a fresh, distinct sound. With great consistency, compelling tone, and overall fantastic music, the album easily earns 4-stars." – Aesthetic Magazine

Toronto, ON – February 3, 2015 – Dust off that old neon one piece ski suit and join BC's Shred Kelly in their hometown ski resort for their epic 80's themed video for title track Sing To The Night! The band, professional local skiiers Brody McSkimming, Zak Mousseau, Josh McSkimming, and Nakoda Mason, Kootenay based traveling performance group The Circus Act Insomniacs, as well as Fernie extras, suited up in fluorescent one pieces, race pants and headbands for the new video, which premiered on Exclaim yesterday. Be sure to catch the blooper reel at the end – http://bit.ly/1Hs1ZFr. On January 31st the band celebrated the official release of their new album, Sing To The Night (https://itun.es/ca/yRzu5), with a hometown show, and now they are on tour from coast to coast. Tickets and tour details can be found atwww.shredkelly.com. Be sure to catch their SKI Reports while they are on the road – check out the first one from Fernie, BC here, eh.

"The making of the Sing To The Night video was pretty incredible. We had no idea if it would work because the videographer Dylan Siggers had to ski backwards throughout the video down the ski hill to capture it in one shot. He is a wizard though and pulled it off incredibly. Every year in Fernie, there is a day called Hot Dog Day, where everyone dresses in retro ski gear and does hot doggin 80's ski moves down the mountain. It has been a legendary day in Fernie for years, and we wanted to capture some of that in the video," says Sage McBride (keyboards and vocals). "A woman in town rents out hot dog day outfits, so between her and other friends in town, we were able to get everyone suited up in some pretty snug fitting suits. The video pretty much features everything that we love most, retro ski gear, ski jumping, hula hooping, and cheesy synchronized dance moves. There are so many hugely talented people in Fernie and we're so fortunate that they all came together to make this video happen."

Since their inception, Shred Kelly have been re-defining what "folk music" means in Canada. Tim Newton (banjo, vocals, guitar, lap steel, ukulele), Sage McBride (keyboards and vocals), Jordan Vlasschaert (bass, acoustic guitar), Ian Page-Shiner (drums), and Ty West (guitar) have amplified the traditional sound of folk music with a more contemporary approach. Listed on CBC Music as one of 2015's most anticipated albums, their 3rd LP – Sing To The Night – released on January 27th has been receiving praise from the likes of Aesthetic Magazine, Exclaim!, and Lithium Magazine.

Catch them on the road this winter!

Upcoming Canadian Tour Dates:

February 3 – Jasper, AB @ Legion Branch 31

February 4 – Edmonton, AB @ The Buckingham

February 5 – Calgary, AB @ SAIT – The Gateway

February 6 – Lethbridge, AB @ The Slice

February 7 – Swift Current, SK @ Lyric Theatre

February 11 – Albert County, NB @ Parkindale Hall

February 12 – Halifax, NS @ The T-Room at Dalhousie University

February 13 – Moncton, NB @ Plan B

February 14 – Fredericton, NB @ Capital Complex – Capital Bar

February 16 – Montreal, QC @ Casa Del Popolo

February 17 – Ottawa, ON @ Cafe Dekuf

February 18 – Lakefield, ON @ Canoe and Paddle

February 19 – Lakefield, ON @ Lakefield College  (Day Show)

February 19 – Hamilton, ON @ Casbah

February 20 – Toronto, ON @ The Rivoli

February 21 – Sarnia, ON @ Paddy Flaherty's

February 26 – Regina, SK @ Artful Dodger

February 27 – Winnipeg, MB @ Pyramid Cabaret

February 28 – Kenora, ON @ Cabin Jacks

March 11 – Revelstoke, BC @ The Traverse

March 12 – Kelowna, BC @ The Habitat

March 13 – Whistler, BC @ Garibaldi Lift Company

March 14 – Vancouver, BC @ Electric Owl

March 20 – Rossland, BC @ Miners Hall March 21 – Nelson, BC @ Hume Hotel

March 28 – Fernie, BC @ Community Center

April 4 – Golden, BC @ Kicking Horse Mountain

April 9 – Cumberland, BC @ The Waverly

April 10 – Victoria, BC @ Lucky Bar