If snowbiking (or snowMX) is your radar of things to try, then Monashee Adventure Group (MAG) based at Silver Star Mountain Resort is possibly the easiest way to make it happen. MAG is a brand new company with operations out of a toy hauler trailer at the base of Silver Star. What makes them unique is their access to the controlled recreation area (CRA) of the resort, which means they have terrain within the area boundaries, that no one but MAG clients get to ride. The group offers tours as short as 1 or 2 hours or you can book them for private multi-day adventures.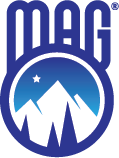 The basic concept of a snow bike is a high powered dirt bike modified with a ski and a track conversion kit.  These days, there are several companies making a go of these conversion kits and MAG uses the carbon fibre Yeti SnowMX kits. At first glance you may think this sport is just a different way to snowmobile, but you may be surprised that snowmx feels a lot more like skiing and snowboarding than you may think. Sure, the whole throttle thing is different but the way you float through the snow has remarkable similarities to how it feels to shred powder on skis or a snowboard. The biggest difference is perhaps that you don't need gravity to have a good time. And that's what makes the snowMX experience unique (and possibly safer in terms of avalanche danger). The MAG tenure explores low angle terrain that is currently not being used in Silver Star. Eventually there is a golf course planned for this area but for now, the terrain serves as a very interesting venue to learn to snowbike on.
"We're probably the only people in the world that have snowbike tenure inside a ski resort," says owner Cory Derpak. "It's an interesting set up and we're hoping that we can expose a whole new group of people to the sport of SnowMX." Cory, now calls Silver Star home and, together with some partners, has teamed up to start Monashee Adventure Group. Right now the main product is SnowMX tours, which is a sport that has garnered a lot of interest among all types of snow sport enthusiasts.
The thing that makes snowmx so intriguing is that it is, without a doubt, its own sport.  What's exciting is the potential of people who would want to try it and there are some huge crossover potentials. Dirt bikers, snowmobilers but also skiers and boarders will all want to give this a go. The coolest part is what it feels like to load the suspension over bumps (or airs) in powder. The combo of vertical and horizontal floating sensations can instantly set a hook that just makes you want more.
Is it easy? The answer is yes and no. The motion of sidehilling, which is more a snowmobile term and involves going across a fall line, isn't really even a thing in snowmx, which is amazing. Why? Because there's no counter weight like on a snowmobile (a ski hanging in the air as you sidehill) to pull you down. That is a very freeing concept because for those who have struggled with not being able to tell a snowmobile what to do may find a much easier user experience on a snowbike. Sidehilling can take years to perfect on a snowmobile and you can do almost instantly (first day) on a snowbike.
The tricky part of SnowMX is speed balance, especially low speed balance, which as a beginner you will spend your first few hours exploring the hard way. The concept of faster being better is definitely true for snowmx but it's easier said than done. Our group had several tip overs on the bikes and many of them felt like they were in slow motion. For smaller riders, the disadvantage is that you may not be able to touch the ground. MAG does offer a variety of different bikes and track kits to try and there are some smaller bikes. The good news about a tip over is that a snowbike is a lot lighter than a snowmobile. Getting stuck, the way you do with a snowmobile doesn't really exists in the same way and it seems a lot easier to get a snowbike out of a stuck than a sled.
Is SnowMX the future? Only time will tell and it's a personal decision. The frequency of people we're seeing try it for the first time this winter is increasing. The downsides involve cost and noise. The idea that you can switch a dirt bike to a snow bike back and forth is a bit misleading and only for the mechanically inclined. The sport is still in its infancy and the products, while super fun when working, are still finicky.
The snowbike experiment at Silver Star with MAG is one worth watching. Respectfully riding by skiers, boarders, fat tire bikers and XC skiers is a wild experience and it's unique in the ski world. Silver Star Resort has always had an inclusion mindset to enjoying everything snow. Adding SnowMX tours to it's fold is just another bold move that rounds out the product offerings.
-Tim Grey
Guided SnowMX with Monashee Adventure Group - Review
Monashee Adventure Group is a brand new operation in a brand new sport.
Great amenities near by.
Equipment rentals are brand new and top of the line.
Ride inside a ski resort - feels unreal.