Deep down, I think everyone's a little curious how they might measure up to their peers in a competitive freeride contest.
Maybe you'll crash. Maybe you won't.
Maybe you'll come raging out the bottom, pounding your chest and then pounding champagne on the podium.
Or maybe you'll tomahawk down the entire venue towards a panel of esteemed judges.
Either way, it'll be exciting.
And skiers and snowboarders have two (TWO!) chances to test their mettle before the end of February.
First off, the 2* Wrangle the Chute is happening this weekend (Feb 19-21).
DON'T BE CONFUSED, because there's a also a 4* Wrangle the Chute happening March 24-27.
But that one's more for the pros, whereas the 2* one this weekend is more for the bros (and sisters, of course).
It's a throwback to Wrangle the Chute's roots, with the action unfolding on the old venue at the far north end of CPR ridge.
In spite of those laid back vibes, the comp is still part of the Freeride World Qualifier (FWQ) Series, so you will need a valid 2015/2016 IFSA-FWQ license prior to entry.
But don't let that stress you out…the 2* rating will likely only attract a more local band of competitors: the kind of guys and girls you race for first tracks on a powder day.
And if you win your respective category, you'll get an invite to the 4* WTC event at the end of March.
Booyeah.
That's when all of your wildest dreams start coming true.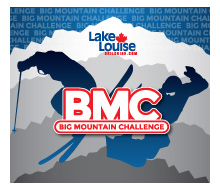 ESPECIALLY, if you also crush your lines at the K2 Big Mountain Challenge at Lake Louise the following weekend (Feb 26th-28th).
The LLBMC has a 13 year history of being an incredibly good time.
You don't need an FWQ license or anything. All you need to do is show up, register and SEND IT (without hurting yourself).
The event is also open to skiers and snowboarders and takes place on Louise's glorious backside.
Really, the LLBMC is just an expression of the local freeride community that just happens to have some outrageously good riding mixed into it.
And there's $10,000 worth of cash and prizes up for grabs!
Last year, only two male snowboarders showed up, which was a little embarrassing for the state of snowboarding but great for the guys who did show up…..first and second place!
But c'mon…..let's give them a few more people to compete against this year.
Either way, even if you don't feel like competing you should show up at these events and cheer these freeriders on.
I can personally attest to the awesomeness of the LLBMC afterparty.
And I know those Wranglers like to throw down after the competition as well.
Yew!