Carter McMillian is a 26 year old skier from Calgary who's been shredding on the Canadian Rockies scene for a while. Over time his skiing has evolved from an expression of reckless abandon to a dependable, awe-inspiring display of gnar prowess. Carter had a major breakthrough this winter past by winning the One Of Your Days competition with Quicksilver and Candide Thovex. Carter's trip to France was a mind blowing experience in itself but it has also become a major career boost.  With world wide recognition for his edit, a new Quicksilver sponsorship and several freeski podiums under his belt, things are looking up for this lanky and soft spoken powerhouse. I caught up with Carter this summer to get the scoop on what's going on and when we will see his shit eating grin again.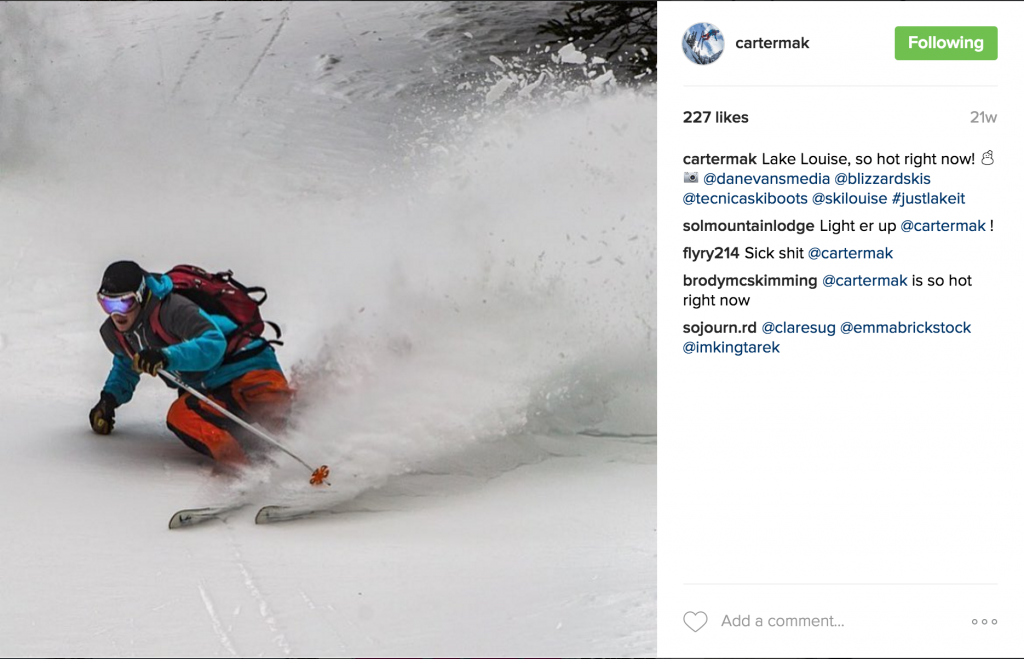 Name your top 3 highlights from last season?
Oh man, it's hard to narrow down that much fun! Last year was the best season ever for me.
The most insane thing that happened to me this year (or ever) was winning Candide's One Of Your Days contest. Spinning hot laps with one of the biggest legends in the sport at his home hill was absolutely wild! It was my first trip to Europe, and Quiksilver hooked up the trip really hard. They made sure every day of my 3 weeks there was a blast. I learned to paraglide, skied Chamonix, surfed the Atlantic, and did so much more. I still can't believe it happened, and it was truly the trip of a lifetime.
In January, Andrew McNab, Matt Francisty and I managed to bag a first descent of a gnarly couloir up at Sol Mountain Lodge near Revelstoke. It was probably the scariest thing I've ever skied down, and I learned lots about steep exposed skiing and mountaineering from those guys.   As well, getting to ski a legit first descent had been on my skiing bucket list since forever, so it felt really good to check that off!
I won Wrangle The Chute this year at Kicking Horse, but I almost didn't go! I didn't think I'd be back from a lodge trip in time to compete, but I drove overnight and slept in my van, then overslept my alarm (that's called pulling a Carter) and somehow signed up with 10 minutes to spare. They ran me dead last both days, but it turned out okay. It was the last 4* qualifier competition of the season for the FWQ, so there were a ton of phenomenal skiers from far and wide. It felt great to stick some competition runs without falling, and the top spots were filled with heaps of local friends.
Do you see yourself working on more tricks or what is your focus?
I don't have the bag of tricks that some of the younger guys do, but I've been working on dialing in the few that I have and pushing myself to send it a little bigger. I like to try and be a well rounded skier, and my focus lately has been on becoming a more competent big mountain/backcountry skier, and being able to safely explore the unbelievable mountains in my back yard. After several unreal days of smashing pillows and pow in Revelstoke and Roger's Pass, I've pretty much decided that that's the best single thing a human being can do and I want to devote a lot more of my time to it. I'm hoping to take a few more mountain related courses to keep on top of things. I also want to keep up with my paraglider training, buy a setup, and ski off some mountains this winter!
Did you qualify for the FWT? And if so are you going to do it?
Oh man I wish! I only entered a handful of local competitions last winter, more for fun than anything else, but they shook out pretty well for me. I found out that I actually qualified 7th overall in North America for the FWQ. Since the top 3 men move on to the Freeride World Tour, I'm going to try a bit harder this year and sign up for lots of qualifier competitions and see if I can get myself up into the big leagues for a season. Plus, I have Quiksilver helping me out this season so that'll help with some of the travel expenses that come with a heavy competition schedule.
Tell us about your skiing and hanging with Candide. What did you learn? How has it changed your approach to skiing?
Well, it was just insane and he made sure it was the trip of a lifetime for me. We were at his home resort in La Clusaz, France, which is also where he films his One Of Those Days edits. It's like one massive choose-your-own-adventure natural terrain park, with perfect takeoffs and landings everywhere. You can go sooo big if you want to. It's easy to see how a hill like this shaped him into the skier he is today. He's the first person on the hill in the morning and the last skier on the mountain at the end of the day, begging the lifties for one more run because the last one was too good, and signing autographs for every single fan he bumps into. He loves skiing more than anyone I've met, and absolutely sends it, full throttle, all the time. We shredded for almost a week and I don't think I saw him make a turn!
I definitely took a few things away from our time together. I really admire how humble and grounded he is, and the huge respect he shows for the mountains while understanding how small we really are as skiers. He also has a powerful work ethic, and it's no coincidence that he made it to where he is today. It was amazing to chase him around, learn from him, and watch his creativity flow in his natural environment. And trust me, he isn't done blowing your mind with his videos yet.
Any hints on what your next edit might entail?
I have a feeling it'll involve a first descent… I've got some awesome shots from that couloir we skied at Sol, and once my laptop gets back from the computer doctors I'll share it up.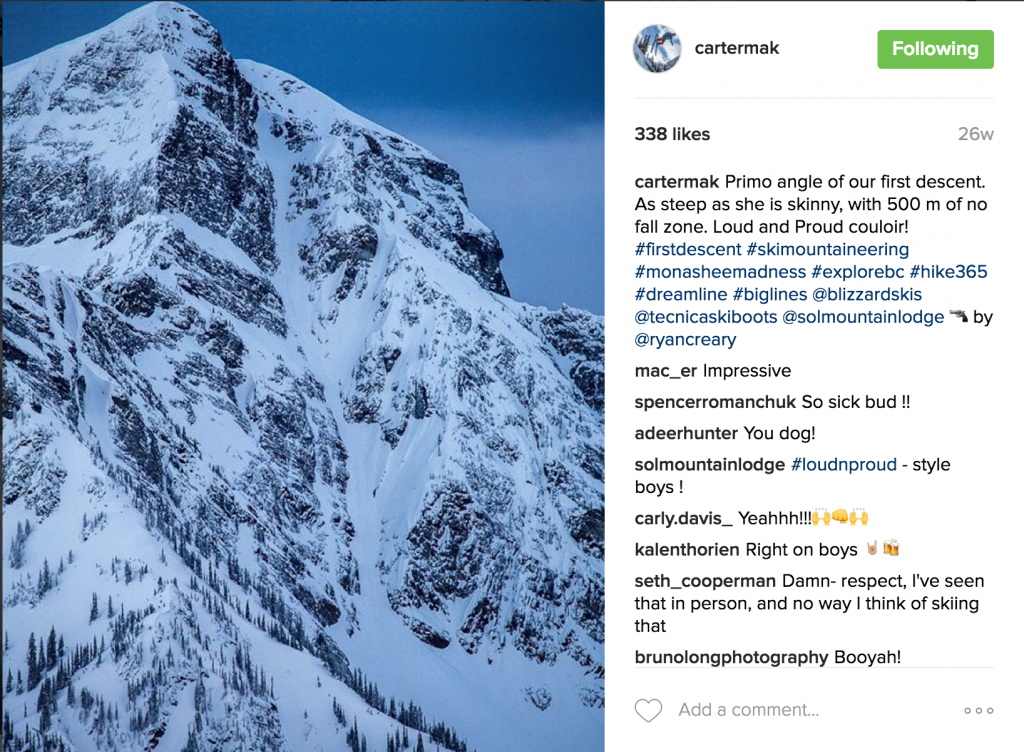 You just won $10 million in the lottery but got told that you only have 1 year to live, what are your plans?
Burn my mini-van, then get myself a heli, a pilot, and chase winter across the world until the day I die.
Marker Kingpins for real? Those are touring bindings. You can't shred freeride on touring bindings can you? Seriously though, have you had any sketchy experiences with them or are they as good as you actually make them look?
Yeah that's what I thought, but apparently you can charge pretty hard on a pin setup! The Blizzard guys got me on Marker this year, so they sent me a few pairs of Kingpins to try out and I really put them through the works. I shred park laps on them, I shot my entire Candide edit on them, and won a 4* FWT stop on them, if that says anything for their hardiness. Those things are absolutely bomb-proof. I've broken a set or two doing stupid stuff like straight-lining icy bumps, but I fully trust that setup in any situation I encounter. Plus I know guys like Hoji and Rubens are known to rock that style of binding pretty hard, so I figured I'd try it out and I'm a changed man. Pin it to win it!
Last words? Props and shoutouts? (sponsors/friends)
Huge props to Candide and the crew at Quiksilver for making that trip happen and setting me up with an unbelievable sponsorship contract to top it all off. Big thanks to Blizzard Skis, Marker Bindings, and Tecnica Boots for all the support along the way. And so much stoke to the Lake Louise ski patrol and mountain safety guys for letting me regularly wreak havoc on their hill. Shoutouts to all the shred friends, who made this winter and every winter the best of my life!