If you're looking for what to do in Vancouver this Friday night, there's only one place to be: the world premier of Kye Petersen and Dendrite Studio's new ski film, Numinous. Playing at the Imperial, the doors open at 8:00pm and the show goes at 9pm (age 19+). If the teaser is any indication, the film is going to be a full-throttle display of freeride movement, combined with emotional and creative cinematic wizardry.  We suggest you book your ticket ahead of time. Afterwards, Monster Energy is throwing a party. Most of the stars in the film will be on hand to join in the festivities. Get on it YVR!
We caught Kye on the phone today to ask him a few questions about the project. It ended up being a nice chat with Kye providing thoughtful answers that we felt should be posted in their entirety. Below is the interview transcribed.
BigLines: You nervous?
Kye Peterson: I'm nervous and excited, but more excited. I'm emotionally ready to be over the project and once it's out there then it's out of my control as to how it's received.
BL: What can people expect to see?
KP: Basically it's the culmination of a bunch of locations around BC. You'll see a lot of skiing around my local mountains. Even on Whistler Blackcomb itself. We shot quite a lot of follow cam footage. One of the segments in the film is based around group shredding and basically skiing the back yard with your buddies. The whole film is quite community based.
Even though I'm the only skier producing the film, there's 8 other skiers in the film and each one of them absolutely killed it. You can expect to see a lot of rad shredding from Logan Pehota, Dane Tudour, Matty Richard, Callum Pettit, Wylie Miller as well as a little bit from Tatum and Rubens.
BL: There's some quality peeps in there. Out of all of them, who has the stinkiest farts?
KP: Haha, I don't know actually. I'm going to guess Callum because of what he eats. He eats lots of rich food.
BL: The lodge man, of course. I'm guessing when you do a long glacier expedition that you have your own tent then?
KP: Not always, it depends. On the Meager trip I had my own tent because it was more a base camp style and you're allowed to be a bit more luxury in what you can take. We had one of those big basecamp tents too, which is nice for the group area.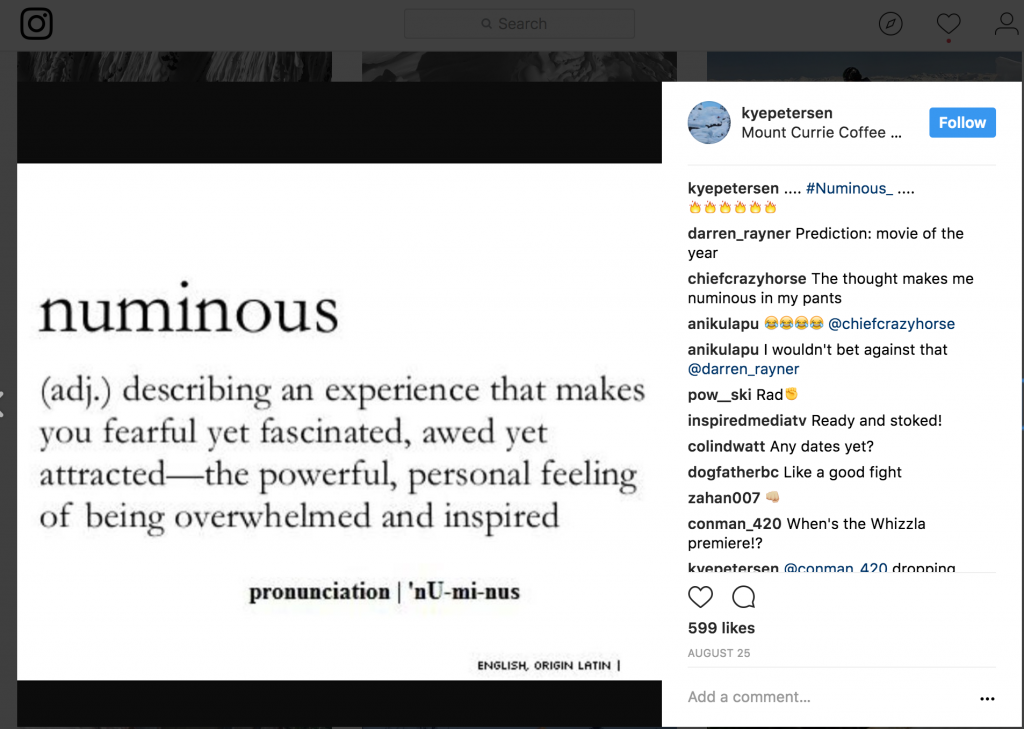 BL: It looks like you had some pretty windy weather in some moments, which is to be expected I guess.
KP: I think continuously, every year going forward, our weather is just getting more and more complicated. We're having more highs and lows y'know. Like extreme low temperatures and extreme high temperatures, which this spring, equated to some pretty sketchy avalanche conditions and inconsistent weather. I can literally count on one hand the amount of days of sun we had last winter. I can count maybe eight days and half of those we're half sun days and maybe half were full dawn to dusk sunny. So yeah, pretty tough conditions to shoot in and I think the film kinda expresses that. But luckily we were able to capitalize on those days, basically just because we were ready all season long. Many days throughout the season we'd go out anyways and we'd work, work, work and come home with a shot a day kind of thing, y'know, just picking away at it. And then you have those rare good days in the spring when you get like ten shots with two different athletes, which really brings the whole film together. But it came down to being ready and working every single day regardless.
BL: Dendrite hasn't made a ski movie in a while. How important do you think taking a break is in the creative process?
KP: I think it's very important. But I don't think those guys necessarily went off and said 'we need a break from ski films.' They've been working on multiple different projects from totally different creative avenues and I think having done that and coming back to making a ski film allows them to express even more creativity. It's the same with me, a lot of my inspiration for skiing comes from outside of skiing, like surfing and skating. Same with those guys, being involved in different sports and different projects. Those guys have been involved in a lot of high-end commercial projects and then for them to come back and do a passion project, which is really what this was: everyone who was involved in this project wasn't involved in it for the money.  I think you'll see in the movie that even though those guys haven't produced a ski movie in seven years that everything comes out pretty strong and really creative.
BL: Name five things you do to promote better health in yourself.
KP: Eat well. That'd probably be number one. I try to grow as much of my own food in my garden and try to eat local. And I just try to stay away from bad meats and things like that.
Besides that I'd say number two is staying active, whatever that is. I'm not very good at going to the gym and training for skiing like I'm a hockey player or a golfer. I need more inspiration or else I get bored. I look to other sports for inspiration.
I think another one is just learning to limit myself and learning to pace myself. I often get excited and when it comes to health and not being injured, learning to pace myself and knowing when to climax is really important. For instance I actually missed all of March and April the first season filming for this project, so technically it's only a year and a half long project and not a two year project. I blew apart my ankle the first spring while skiing for the film and it really came down to me being like, I should have called it, y'know. I was hitting a feature too many times and I basically landed in my bomb hole. And I knew that I shouldn't have been hitting it but I kept doing it anyways, so things like that. Y'know it wasn't for like the sickest shot either or the sickest feature it was just like I was hard on myself and pushing myself, like I always am, but now I think it's just about choosing the right times to do that… At the same time, y'know when I go out skiing, I want to give it my fullest or I'll never learn anything. If I go up the ski hill and just go ski Spanky's and don't hit anything then I don't learn shit. But if I go down Spanky's and I hit every single hit that I know is there and I try new tricks off every single one, then when I go out and shoot in the backcountry, I know I can stomp a seven, or whatever y'know, cause I do it all the time. So it comes down to doing it all the time but then not doing it all the time! [laughs] So it's just choosing the days y'know. I think I skied a lot less these past seasons than I did in previous seasons but because of that I was able to maximize my climax of performance – at the right time.
BL:These are great answers. I'm going to press you. Got two more?
KP: So mental health is another huge one. So mentally staying stoked on what I'm doing. I mean it sounds bad and people watching our film they may not understand but it's easy to get bored and burnt out on what you're doing. So in order for me not to burn out, I tend to look, for me, it's terrain. You'll notice that in the film for Numinous, that every location we go to is a spot that I'm passionate about. And it's not just blank faces or straight couloirs, as cool as that is, but the whole film is based around finding unique terrain, not like anything else. And maybe it's really difficult to ride or maybe it has more opportunity to get creative on. For me, for instance, when I come into a season: I usually don't get as stoked for skiing until I'm actually back on my skis. I don't really watch ski movies anymore, i mean when I was a kid I grew up on that stuff and that's part of my passion to make a ski film like this. But for me it's actually, like me going out there and OK I've got like five or six zones that I've marked on Google Earth or on the maps and I know there's insane terrain there and I don't have much info on it. But going in there and finding that terrain and having it come to life. Or like finding some crazy pillow stack that's never been rode before, that is what gets me really amped to ride. And I know it sounds picky, but if I'm not finding terrain like that to ride, then I'm not stoked on skiing. Part of it for me is the journey, not just the conclusion.
BL: Ha, you don't have to come up with five, but do you have one more, even a small thing?
KP: Yeah, health… I mean actual physical health is a difficult thing for me because to be honest, I've been battling through injuries the last few years and my main focus for this season is to actually just recover from those injuries and not continue building upon them like I have the past couple years.  But uh…[pause]
BL: That's a pretty good answer man. I mean I was going to ask you what's next, and I think often times when you see guys finish a two year project, it's like the next little bit they're just like: ok, let's just take a breather for a second.
KP: Yeah, I think it takes, like I said earlier, it takes motivation from other avenues to get stoked on skiing again. And I've been pushing myself super hard for a long time and never really gave myself the proper time I needed to heal. And y'know there's so many other things in my life that I want to accomplish. So, at the same time, I know when the season rolls around and trips come up and I'll be like 'shit yeah I want to do that!' And when I'm there I'm going to want to ski to my full potential. But at the same time I want to learn more about myself, and other simple things like writing, or boarding or surfing and just growing creatively in other areas other than skiing. So y'know that's part of my future. Of course I'm still going to ski and be apart of other small projects. And just take a break from projects like this. I mean, who knows if I'll ever do it again. Cause really, it takes a lot of support to do something like we did and we didn't really have that much support. So it's not possible to do that every season for me. Unless I have some big sponsors dollars, which I don't. So it was more like a passion project for me. I mean I wanted to do this like at least once in my life. The ski movie scene is like a dying breed to begin with. I grew up watching ski movies and I just wanted to do something that would stoke up the kids once before it's all over. Hopefully people like it.