Mountain Hardwear Hellgate Jacket Pants REVIEW
Fabric Toughness Jacket and Pants
95%
I have been product testing the Mountain Hardwear Hellgate jacket and pants this month and there are a several things I really like and a couple of things that dislike about the jacket/pants combo. I have used this gear for 6 field days that included resort powder days at Kicking Horse Mountain Resort and Lake Louise, a sno'moboard (snowmobile snowboarding) day, and a ski touring day. All days were in December 2015 in 'typical' interior BC weather, which included rain, snow, wind and fluctuating temps.
JACKET
The Hellgate jacket, which retails for $500, ranks in the classic hard-core form of mountain jackets where it is pure shell and built to last. There is no insulation attached to jacket and it's meant to operate as part a layering system. The fit is quite loose, which is good for resort day steeze and if you want to rock a layer under it. I'm always on the fence between a L and XL in size and the large I tested was more than ample.
Collar: 10/10 I love the collar of this jacket, which includes the hood system. Attention to detail here means that you have a nice fleece lining inside and the zipper is hidden when fully done up. If you need to hunker down in this jacket you can pull the collar right up to your goggles and the cold zipper doesn't touch your skin. I love this feature because there are always instances when you're hanging out at ridge top and you need protection. There's nothing I'd change about this collar.
Cuffs: 9.5/10 Second in importance only to the collar on a jacket are the cuffs and here again the Hellgate jacket excels. The cuffs are articulated and easy to operate. I tried 3 different pairs of gloves/mitts while wearing this jacket and the cuffs performed as you'd want them to in every instance. The ultimate test of a cuff is sealing up the second (last) cuff over bulky mitts. I was able to do this with a few easy wiggles.
Breathability: 7/10 I tested the breathability of this jacket under very tough circumstances on a ski touring day. Leaving the truck at 0 degrees C in a light rain, I wore the jacket on an hour and half tour to the sub alpine, where it was snowing. I then skied down in it. I don't think there's a jacket on the planet that isn't going to be wet in these circumstances but I found the jacket fabric a bit too heavy to breath properly and felt like I was retaining more heat inside than I wanted to. I should qualify with the fact that on a touring day, I traditionally pick a jacket that is very light but not very tough and built specifically for touring. I prefer an outer jacket that I never take off and only layer on top of.  The Hellgate is just slightly too thick to have full breathability where you do not retain heat while working hard but also I do not believe it was designed as a specific ski touring jacket.
Toughness: 9/10 The true test of a tough jacket is to run it through a whole season of use in all circumstances and obviously after 6 days of use it's hard to speak fully to this category. That being said, I have worn enough jackets in the mountains to know that the Hellgate is well constructed. I saw no breakdowns in functionality over 6 days (which is often enough time for me to break something) and you just get the feeling that this is the kind of jacket that is going to last a long time. And should you have any problems, Mountain Hardwear stands behind their gear with a lifetime warranty.
Overall
If you're shopping for one jacket that can do it all, or specifically for a resort, heli, cat and sled ski jacket then the Hellbent is worth considering. As a ski touring specific jacket I think it's a bit too heavy.
PANTS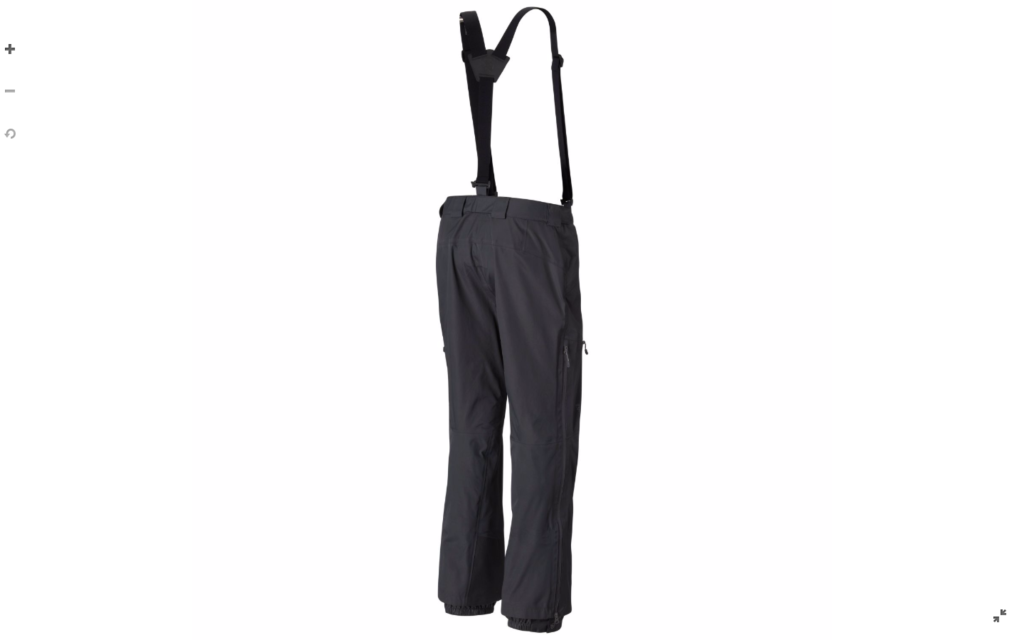 There's things I really like about the Hellgate pants but the suspenders would restrict me from recommending these pants.
Bottom Cuff: 9/10 There's not anything that I didn't like about the Hellgate pant cuffs. The internal gator stayed put over my snowboard boots during a waist deep wallow to the top of my run. The outer cuffs are also bowed a bit compared to the leg so they fit nicely over ski boots, even with the buckles open.
Fit: 9/10 Ski touring is the ultimate test of if a pair of pants actually fit. I noticed no restriction in movement while touring or skiing. The bottom cuffs are flared and fit over ski buckles well. The pants are bit 'mountain man' looking, as opposed to cool steeze man.
Suspenders: 1/10 Straight up, I don't like the suspenders on these pants. It's rare for me to call a product out so heavily but in this case I feel like I must. First, I will qualify by mentioning that I'm a bib pant kind of guy and the Hellgate pant, which retails for $380, is not bibbed. In fact Mountain Hardwear does not make a bib pant (as far as I can tell), which I thought was odd.  On day 2, I went snowboarding and got snow down my back after a bail. I was cursing the lack of bib for my wet back for the rest of the day. On day 3, the very bulky plastic clasps dug into me while ski touring. I got a bruise on my spine because the back clasp sat at the exact spot where my backpack back pad sits. The same went for the shoulder clasps, which are bulky and my shoulder straps of my bag sat right on top of them causing discomfort. I wear a backpack almost everyday I shred and these clasps did not fit me and actually caused me pain. On day 4, I found some relief on the shoulder straps after some adjustments but the back clasp always ended up jabbing in to my back. As ski mountaineering pants, if you're wearing a harness there is also a lot of bulk around the waist. Therefore, unfortunately I have to fail the pants. I have since taken off the suspenders and worn the pants with no issues.
Final Thoughts
Buy the jacket for the collar and and cuffs but avoid the pants for not being bibbed and having large clasps that dig in.