This past weekend saw the 13th annual 2016 K2 Big Mountain Challenge go off at Lake Louise ski resort. It was a 2 day cumulative score event with the first day Feb 26th being in the classic ER7 venue and the final day saw the famous ER5 venue open up as a comp venue for the first time since 2008.
Day 1:
The weather was great and the backside ER3 venue was perfect for attracting an interested crowd of onlookers to watch the wild runs of both mens and women's ski and snowboard as they pulled out every trick in the book to contend with challenging conditions. The snow was not deep but grippy enough to hold and edge and soft enough to allow big airs to get stomped by young knees. There were only a couple of crashes as most competitors stayed on their feet. With a total of 65 competitors in the comp the cut for the first day was generous and 43 athletes moved forward.
The coolest part of day 1 was for sure to see sit-skier Amanda Timm compete. To my knowledge this is a world first. Amanda may not have qualified for day 2 but she was the spirit award winner on the girls side for day 1.
Great Day 1 photo gallery right here: Taller Than Tales. 
Day 2:
After much talk of the Day 2 venue being North Cornice, the decision was made to change (the night before)  to ER5 instead due to a number of issues, the primary one was snow quality. North Cornice had received substantial solar radiation the previous 2 days and it was determined that the course conditions were not up to par. Therefore ER5 was picked and from the roar of cheers from the competitors, the decision met their approval. ER5 is a wild, world class venue with huge scale and many features. The possibility for high line scores had many variations but the snow was very punchy and not very deep.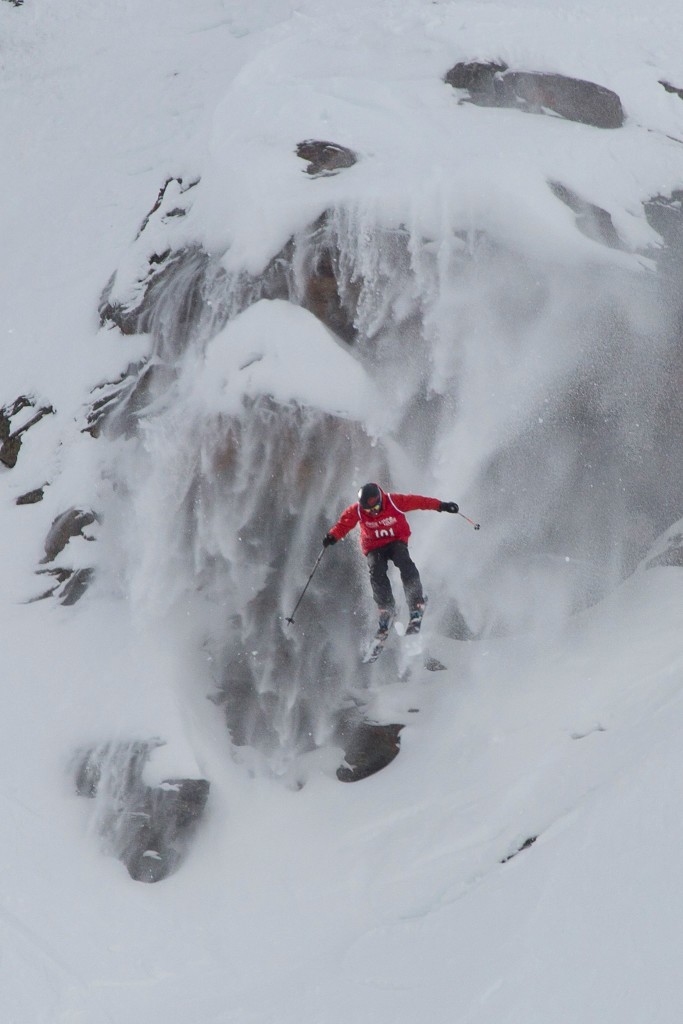 At the end of the two days of competition the winners were as follows:
Womens Snowboard
1st – Tracy Lawson
2nd – Nicole Kelly
3rd – Sue Shi
Womens Ski
1st – Camilla Lockland
2nd – Sarah Elliot
3rd – Annabelle Fairweather
Mens Snowboard
1st – Trent Forrest
2nd – Maximilian Morrison
3rd – Mitchell Staig
Mens Ski
1st – Louis Panning-Osendarp
2nd – Carter MacMillian
3rd – Braydon Bester
A big thanks to Lake Louise and K2 for putting on such a great event. We can't wait for the 14th annual!
Afterwords, it was time to party at the Krowd.ca Neon Ski On party.