Established in Vancouver, BC in 1974, Comor Sports is a locally owned and operated action sports retailer with three locations to serve the needs of skiers, snowboarders and cyclists in the Lower Mainland. Don't worry if you aren't able to make it into the brick and mortar location as Comor also has an online component as well with a full selection of products from K2, Burton, Salomon, Rossignol, LibTech, The North Face, Arc'teryx and more.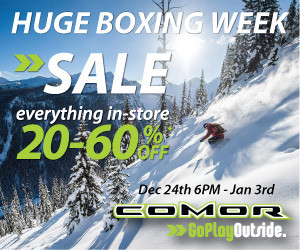 As a former SIA (Snowsports Industries America) Retailer of the Year, Comor strives to share their passion for all things ski, snowboard and bike by providing their customers with top notch product knowledge and some of the best customer service in the industry.
If you should find that Santa Claus didn't make your shred dreams come true this year, take matters into your own hands and visit Comor where you can take advantage of some sweet Boxing Week deals. The first 15 purchases over $200 on December 26th at both the Vancouver and Burnaby locations will receive a FREE WHISTLER BLACKCOMB LIFT TICKET. Thats a $125 value. Thats a Boxing Week deal I would stand in line for! The entire store is also up to 60% off from December 26th to January 3rd.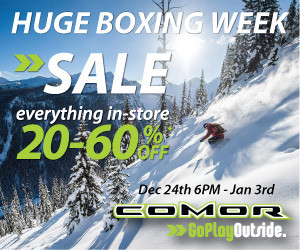 Don't want to brave the lines on Boxing day? Use the promo code "BIGLINES20" when shopping at Comorsports.com you can save an additional $20 off of any online purchase of $99 or more. Thats real money my friends. Money you could save on these Boxing Week deals at Comor.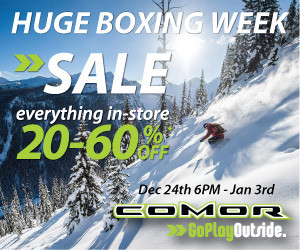 Visit one of Comor's three locations at:
Comor Kitsilano
1766 West 4th Avenue
Vancouver, BC
V6J 1M1
(604) 736-7547
Comor Burnaby
3700 Hastings Street
Burnaby, BC
V5C H5
(604) 291-0475
Comor Whistler
4338 Main Street
Whistler, BC
V0N 1B4
(604) 938-8898
*Boxing Week prices in effect Saturday, December 26th, 2015 until Sunday, January 3rd, 2016.*