Located in Banff Alberta is a great ski shop called Soul Ski and Bike. Since opening in 2009, owner Andrew Matergio and staff have provided visitors and locals alike with years of knowledge as well as top quality products from brands like K2, Icelandic Skis, Blizzard Skis, Fly Low, Discrete, Outdoor Tech and many more. In addition to serving the ski and snowboard communities with great services such as a boot fitting department to fill the needs of the enthusiast looking for the ultimate in comfort and performance from their ski or snowboard boots, Soul also offers rentals of Fat bikes, skis and snowboards tailored for winter excursions in one of the most beautiful and iconic locations in the world.
Located on the lower level of the shop is perhaps one of the best tuning facilities in the country. With over 15 Olympic medals won by athletes using gear set up by Mike Lindsay and his crew, you can trust that your stuff is in good hands. When you bring your skis or snowboard to Soul to get tuned by these guys you can be assured you are receiving the same quality of service that world class racers have received on their way to multiple podium finishes. These guys are experts in getting your gear set up so you can worry about the one important thing, having fun out there!
So, next time you find yourself in Banff, be sure to stop by and say hi to the guys and girls that work in this super friendly shop. They won't try to hard sell you into anything (except maybe some rad Biglines gear), they just want to hear about how you went out and got it good. Just try not to rub it in too much.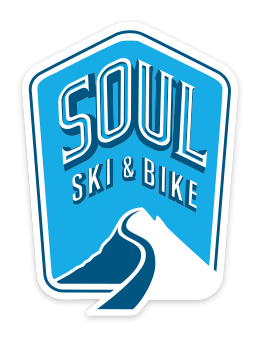 Soul Ski and Bike
203A Bear St.
Banff, Alberta
403-760-1650
Hours:
8am -8pm
Monday to Friday
Facebook: www.facebook.com/SoulSkiandBike