skiing is FUN! from Christina Lusti on Vimeo.
When I met Christina Lustenberger 10 years ago we were standing at the bottom of a race course, shivering in downhill suits and looking at our times. It wasn't uncommon for Lusti to hold the lead by a healthy margin, heck it wasn't uncommon for her to beat all the boys.
She's still fast, determined and driven, but a lot has changed since the days of spandex, icy courses and timed runs. Born in the east Kootenay town of Invermere BC, Lusti was introduce to skiing by her parents, who run the rental tune shop/coffee bar "Lusti's" at the base of the mountain in Panorama Village.
At 24 Lusti retired from ski racing and moved to Revelstoke to follow her dreams of ski mountaineering and guiding. She is hands down one of the most motivated and experienced big line skiing women on the scene today.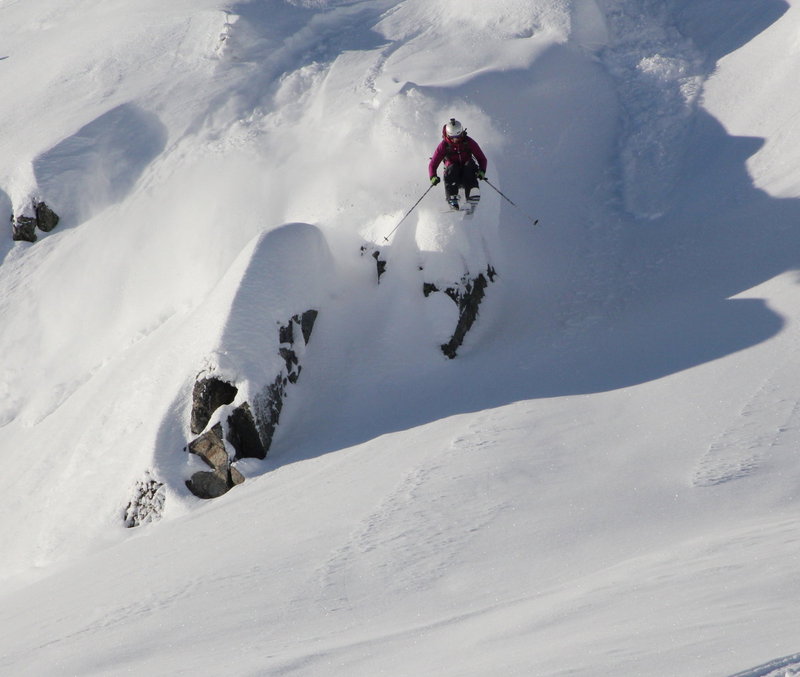 Nickname: Lusti. Pronounced "Looo-steee", not "Lust-y"
Website: www.christinalusti.wordpress.com
Tell the world about your skiing history.
I grew up skiing at Panorama. My parents put me into the racing program when I was young. I started out as Nancy Greene, onto Provincial Level and then the National Team.
A quick progression. How old were you when you made the National Team?
I was 17 and I spent six years competing at World Cup level and Olympic Events. I suffered from recurring knee injuries and eventually realized I wanted to ski for the rest of my life and that it was the sport of skiing, not ski racing that I really enjoyed. I made the decision to retire from the team, moved to Revelstoke and coach for the Revelstoke Ski Club. That season is when I applied for the Thompson Rivers University Adventure Guiding Program. This year I am training for my ACMG Assistant Ski Guide's exam.
You were known in ski racing for going balls out every run.  How has this carried over into your mountaineering style?
I like the slow progression of ski mountaineering and taking and learning from each experience. Turning around because the conditions aren't great can be just as rewarding as skiing it. Sometimes it takes two or three tries to ski or summit a peak and it just feels that much better when you do.
How do you think going to the Olympics prepared you for becoming a guide?
The Olympics itself wasn't really a highlight of my ski career. It was more the hard work and dedication and the practice of setting goals that has helped me get to this point. The work ethic you develop growing up in ski racing and being an athlete transfers over to setting objectives and working hard in the mountains.
So, if the Olympic Games weren't a highlight, what has been the highlight of your ski career so far?
My first solo ascent was incredibly challenging. I climbed the South Couloir of Mount Adamant in the northern Selkirks by myself last year. I think it was also a first ski descent on that line, but I'm not sure.
It was a three-hour climb up so it was physically demanding and being in my own head for three hours was a mental challenge. I was more focused than scared, because I wasn't afraid to turn around if I needed to and I was constantly assessing the snow in the line. Usually when I get to the top I can relax because I feel so comfortable once I have my skis on. Being on my own kept me super focused the whole time. It was pretty variable conditions and when I skied off the fan and onto the glacier it was a huge relief and the excitement set in.
You are drawn to some pretty hard-core and technical ski lines… Do you ever get scared?
Steep alpine lines are my passion. I think this is because I gained such a deep technical base from ski racing that they are what challenges my skiing the most.  I like the challenge of moving safely through alpine terrain, scoping a line and waiting for the right conditions whether it takes a day, a week, or a year. Having that goal feels good. The skiing part is usually a relief, the up is the hard part.
Rumor has it you were caught twirling your hair in the crux climbing the east face of Mount Castor- is that just a nervous twitch or are were you trying to be cute?
Ha! I always think its fun to be a super strong and capable woman in the mountains, but its also fun to rock pink snow pants and twirl your hair. I still want to be seen as a girl. I'm not trying to be macho I'm just trying to push myself every day.
What is it like being the girl in pink pants in a mostly male world of ski mountaineers?
It's a pretty cool realization that you don't need a boyfriend to go into the mountains, and you can accomplish things by assessing the situation and use your knowledge and experience to gain an objective. I think it challenges you to become physically stronger to keep up to the guys but at the same time I think being a strong woman probably challenges lot of the guys too. There are tons of amazing girl athletes in Revelstoke- amazing skiers, good attitudes and always keen to go- we push the boys just as much as they push us. It's a fun atmosphere to be in for sure.
Do you know any guys that can ski faster than you?
(Silence) Um.. Do you?
No, No I don't.
Next question!
You just got picked up by Dynastar after years of skiing on Rossignol Skis, what excites you about the change and the new product you will be representing?
Dynastar Skis were born in Chamonix and this year the company is coming out with a new line that is geared towards that style of classic big line skiing. I am pretty excited because everything that they have told me about the Cham line sounds like it will suit me perfectly.  Rossignol makes great skis, and I have enjoyed working with them for so many years but I am excited for the change and to see what Dynastar has to offer.
Who do you look up to in the ski industry?
My parents for sure, the lifestyle they live and the amazing skiers they are.  I met  some pretty amazing mountain guides as instructors in the program at TRU. Greg Hill and Joey Vosburgh have definitely been an inspiration with their creative style of ski touring.
You have accomplished a lot in the past four sesaons in Revelstoke, segments in two VShaw Productions films, graduating from TRU and getting into the ACMG Assistant Guides training. What's next?
I am really focused on capturing and pushing a women's ski mountaineering movement, I'd love to see an all women's ski mountaineering film with shots of girls doing trips and skiing big fast lines.
I definitely have a list of lines and peaks that I'd like to ski but it depends on the conditions and season and snow pack so we will see. I'd like to go back to the Adamant range in the Northern Selkirks. My main goal is learning every time I go out, having fun, skiing safe and challenging myself.